Dear All, Do you remember, on our very first blog published on 22nd March 2021 we did analysis on Nifty Pharma Index and came to conclusion that Nifty Pharma index had good support zone at the levels of 11667 and as expected the Index bounced back. It was a very good chance to buy quality stocks from Pharma sector. Our picks mentioned in the same blog, Morepen Labs rocketed to Rs. 52 a share from Rs. 32, Dr Reddy's Lab went to Rs. 5200 from Rs. 4300.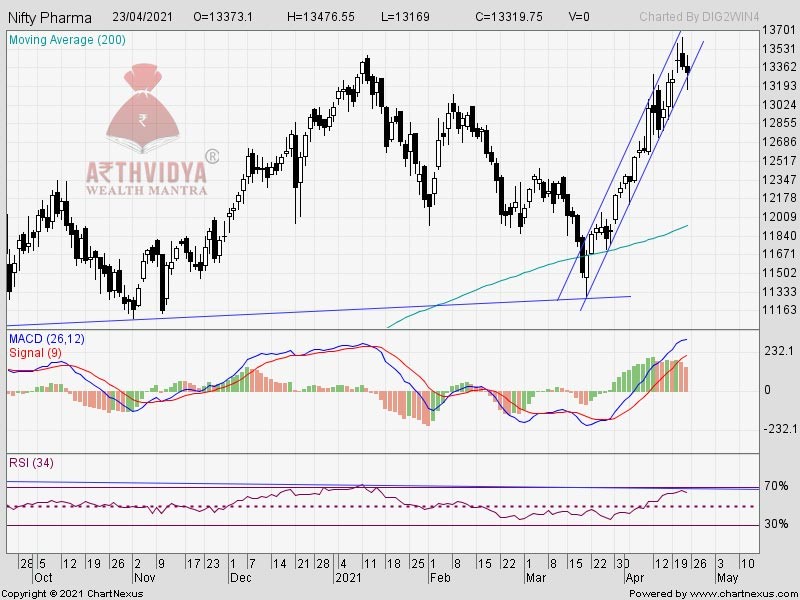 Today, one month after the first blog i.e. 24th April 2021; we have following observations about Nifty Pharma Index:
1) After 4 weeks of Consecutive buying, Last week we saw it was coming to an end and weekly candle formed on Technical Cart is looking like long legged doji with small body indicating High Indecision.
2) On the weekly charts, RSI showing a Negative Divergence indicating that overall weakness may follow soon.
3) The Pharma Index is witnessing resistance in the Price band of 13500 – 14000 which is also the Life-time High it has made in the year 2014, the same drawn on chart.
4) On Daily Chart prices have gone up sharply in vertical uptrend price band and the same is getting violated on down side.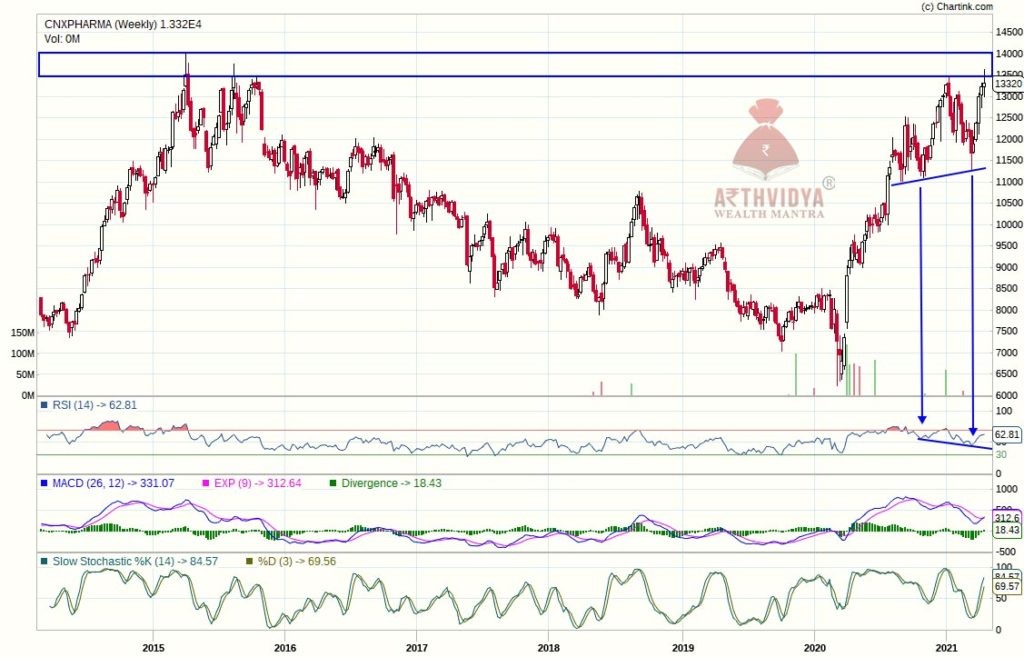 From all above points, we can come to conclusion that a pause can be seen in current up rally of Pharma stocks. We suggest to book profits in Pharma stocks at current levels. On the contrary Nifty Pharma Index can go up drastically if it manages to cross 14020 levels i.e. Lifetime high made in 2014. So we should keep a close watch on these levels in coming days. We are of the opinion that Nifty Pharma Index may remain in broad range of 11500 -13600 for the coming 2 to 3 months before the next up or down move.
Digvijay, Co-Founder & Technical Analyst, Arthvidya Wealth Mantra
info@arthvidya.in
+91 8484036379
www.arthvidya.in / info@arthvidya.in
Please like our FaceBook Page: https://www.facebook.com/Arthvidya.WealthMantra
Subscribe to our YouTube Channel at :https://studio.youtube.com/channel/UCU4CTekZ6ZAO_y7HNQ9XiYA
Subscribe to our Telegram Channel at:http://t.me/arthvidya"
Disclaimer: This article is intended to be used for information and education purposes only. It is very important to do your own analysis/study before making any investment decision based on your own personal circumstances. We are in no way related to the companies mentioned and discussed in any of our articles and we are not paid by any of these companies in any way.
Investment/Trading in securities Market is subject to market risk, past performance is not a guarantee of future performance. The risk of loss in trading and investment in Securities markets including Equities, Derivatives, Commodity and Currency can be substantial.