As you all know we post blogs on current market situations and views about different stocks or indices. In the same context we had posted a blog on 13th April 2021 about a PSU company, Indbank Merchant Banking Services Limited.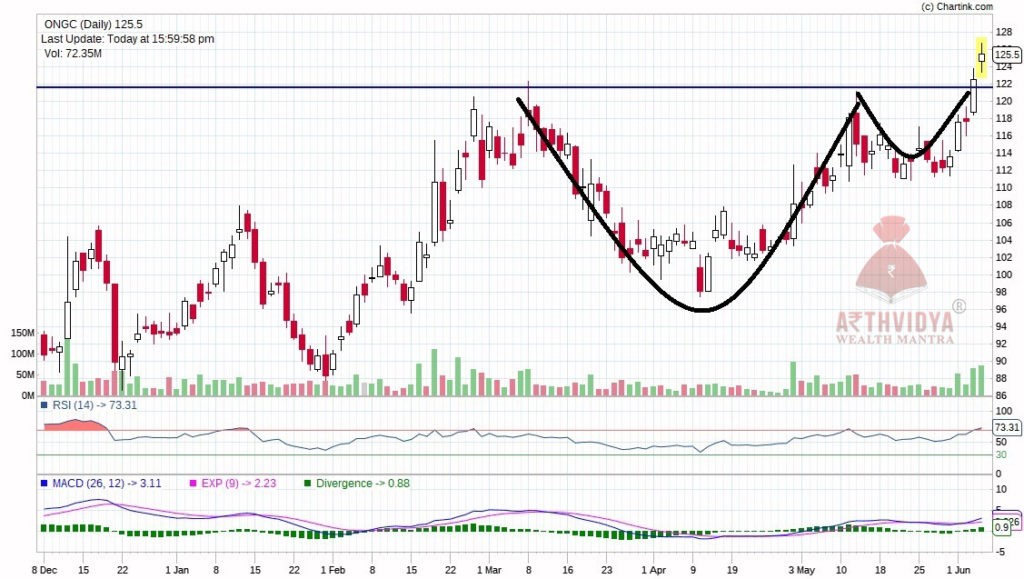 Oil & Natural Gas Ltd. is a PSU (Public Sector Undertaking) that is a company run by Government of India. If we have a close look at the daily chart of ONGC, we can observe that a Cup & Handle Pattern is formed on the charts. Cup & Handle is a Bullish pattern and is formed over a period of last 3 months in this chart. Yesterday prices of ONGC broke above120 odd levels which we can see in the chart. These levels were achieved earlier on 2 instances but the share prices failed to cross and traded downwards. Now the level (hurdle) has been crossed. The target of this Cup & Handle Pattern Breakout comes at around 142-143 levels. Now the question arises, how much time it should take to reach to these 142-143 levels? As per the theory and previous observations targets are achieved in one third time of the cup and handle pattern formation. So these targets may be achieved in one third of three months; i.e. in ONE month these levels may be seen.
It is just an expectation and not a guarantee. This article is purely for Educational Purpose. Do your own Study.
Team Arthvidya Wealth Mantra
8484036329 / 79 / 87
www.arthvidya.in / info.arthvidya@gmail.com
Please like our FaceBook Page: https://www.facebook.com/Arthvidya.WealthMantra
Subscribe to our YouTube Channel at :https://studio.youtube.com/channel/UCU4CTekZ6ZAO_y7HNQ9XiYA
Subscribe to our Telegram Channel at:http://t.me/arthvidya"
Disclaimer: This article is intended to be used for information and education purposes only. It is very important to do your own analysis/study before making any investment decision based on your own personal circumstances. We are in no way related to the companies mentioned and discussed in any of our articles and we are not paid by any of these companies in any way.
Investment/Trading in securities Market is subject to market risk, past performance is not a guarantee of future performance. The risk of loss in trading and investment in Securities markets including Equities, Derivatives, Commodity and Currency can be substantial.