Greetings from Arthvidya Wealth Mantra! Hope everybody is safe, healthy and at home.
Dear Investors, we are starting a series of informative articles related to UNDERVALUED STOCKS, which have a strong Growth Potential and in the process they could give you size able returns on your investment either in short term and even in the longer term. The first stock in this series is Cupid Ltd.
Company Name – Cupid Limited
NSE Code – CUPID
BSE Code – 530843
Current Market Price – 236.55 as on 03rd May 2021.
About the Company:
Cupid Ltd. was incorporated as a Public Limited Company in 1993 with the Registrar of Companies, Maharashtra and listed on BSE (Bombay stock Exchange) in 1995 and on NSE (National stock Exchange) in 2016. The company has its Head Office in Mumbai and manufacturing unit in Sinnar near Nashik, about 200 km east of Mumbai in Maharashtra. The company is a leading manufacturer & supplier of quality Male Condoms, Female Condoms & Water based Lubricant Jelly. Their products are exported to more than 60 countries round the globe.
(Please visit www.cupidlimited.com for more details)
Company's Financials:
Current Market Capitalization – ₹300cr
Sales figures for the last 3 years are as following:
FY2017-18 = ₹ 81Cr
FY2018-19 = ₹ 85 Cr
FY2019-20 = ₹ 161 Cr
(Company has witnessed a Sales Growth 24% over the last 3 years)
Last 3 Years Profit of the company:
FY2017 -18 = ₹ 17 Cr
FY2018-19 = ₹ 15 Cr
FY2019-20= ₹ 40 Cr
(Profit Growth 24% last 3years)
Share Capital – ₹ 13 Cr
Face Value – ₹10
Reserve & Surplus (Cash) -₹ 103 Cr
Debt – ₹ 12 Cr (the company is almost Debt free )
Promoter Holding – 45%
Earnings Ratios :
EPS – 25
P/E – 8.84 (Very low)
Dividend yield – 2%
ROE – 50%
ROCE – 45%
Growth Potential:
Global Demand
All product Export
There are more than 10 Products in the company's Portfolio
WHO Support
Current global Need for Population control
Prevention from Diseases like HIV and other STDs.
The Stock of the company is trading at a low P/E of 8.84
We see an upside in the share price of 20%-40% from the current rates.
From Technical Analysis View-Point
The study of daily chart of the company Cupid Ltd. shows that there is a symmetrical triangle formed as shown in the accompanying Chart. The chart also suggests that the stock had a resistance placed at 222. When the resistance level of 222 is crossed, the stock has given a breakout and as long as the stock trades above 222, the possible target seems to be 222 + 74 = 296. (where 74 is the HEIGHT of Symmetrical Triangle)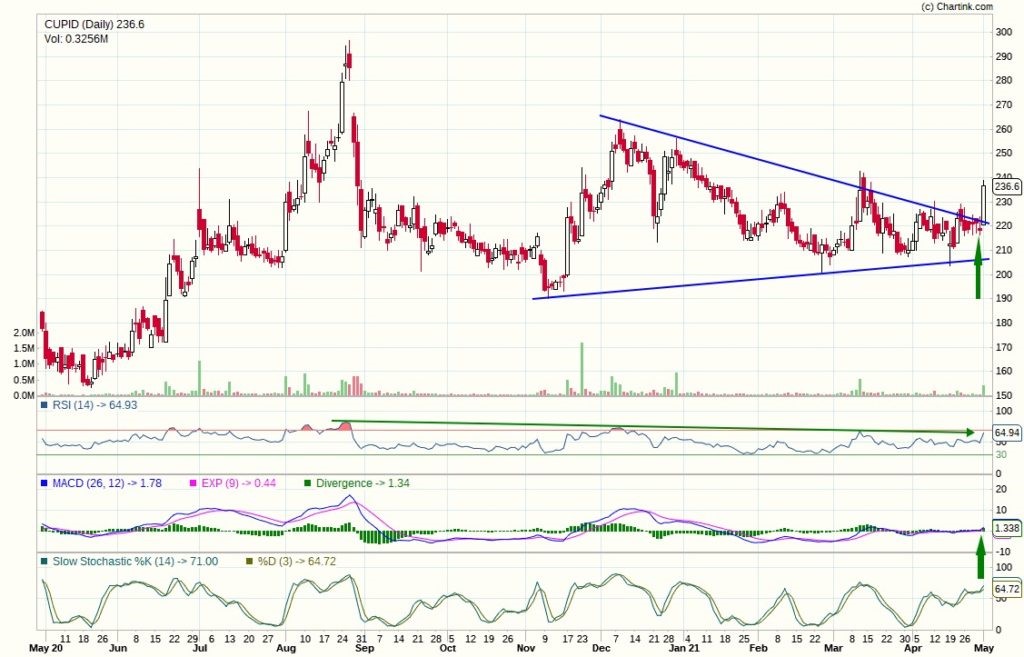 At the same time, the MACD has moved above the zero level, giving a positive crossover, indicating buying acceleration significantly. RSI has crossed the level of 60 and is showing a lot of strength.
In short, the target for the stock is 296-305 above 222 Levels. One should keep stop loss at 205 levels on daily closing basis.
Team Arthvidya Wealth Mantra
8484036329 / 79 / 87
www.arthvidya.in / info@arthvidya.in
Please like our FaceBook Page: https://www.facebook.com/Arthvidya.WealthMantra
Subscribe to our YouTube Channel at :https://studio.youtube.com/channel/UCU4CTekZ6ZAO_y7HNQ9XiYA
Subscribe to our Telegram Channel at:http://t.me/arthvidya"
Disclaimer: This article is intended to be used for information and education purposes only. It is very important to do your own analysis/study before making any investment decision based on your own personal circumstances. We are in no way related to the companies mentioned and discussed in any of our articles and we are not paid by any of these companies in any way.
Investment/Trading in securities Market is subject to market risk, past performance is not a guarantee of future performance. The risk of loss in trading and investment in Securities markets including Equities, Derivatives, Commodity and Currency can be substantial.