We have attached it's Daily Chart sourced from www.chartink.com , In this chart image one can see how all Moving Averages Come together or we can use the word converged, getting close with each others. Yesterday prices closed above all moving averages( I Have applied 10,20,50,100,144,200 Days Simple Moving Averages On closing Basis.) A big Bullish Marubozu candle is formed. Momentum Indicators Relative Strength Index is broke past above 70 levels currently at 76 levels indicating extreme strength in going up. MACD HAS REJECTED GOING BELOW "00" Zero line and now Positive divergence is happening. Bollinger Band Got Squeezed and Now Bollinger Bounce has started, indicating Big price up move ahead.
While nifty is trading in falling channel as shown in image, earlier resistance line now acting as support line , according to above study 16750 should act as a strong support, if 16750 is broken then next support lies at 15600-15500 levels.
Yesterday Prices went up by 17.25%, with record break Volume of 30.88 Lacs which is 25-30 times of Last 30 days Average volume. Out of 30.88 Lacs Shares total 5.90 Lacs shares were traded in Delivery, indicating that people expecting prices to go up in near term.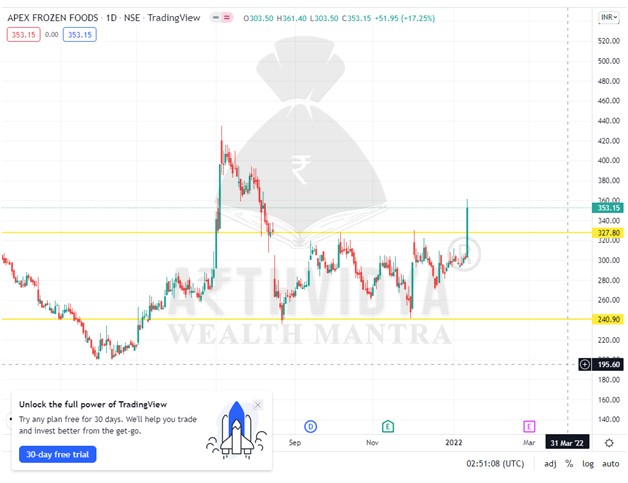 Above is Chart Image Screenshot taken from Tradingview.com , I have drawn two parallel lines. We can see that prices were trading in range of 240-327 and yesterday prices closed above 327 with 28-30 times volume spurt over last 3 Months daily Average. As per Range Breakout theory, Target calculations will be Range Height add in breakout point. So Range 325-240 = 85 Rs. We need to add it in 325, so Target will be 325+85 = 410. Which should get achieved in a span of 15 – 20 days.